About Del.icio.us

What is Del.icio.us?

Del.icio.us is a popular website that people use to :
* Keep links to their favorite articles, blogs, music, reviews, and more and access them from any computer on the web.
* Share favorites with friends, family, and colleagues.
* Discover new things. Everything on del.icio.us is someone's favorite - and it's there for other people to discover.
Magnet Commerce and Del.icio.us

Magnet Commerce works together with Del.icio.us to let your customers post your products on Del.icio.us, where lots of other people will be able to see them. Once a customer posts one of your products, Del.icio.us creates a link to your store's product page that is available for all Del.icio.us visitors to access. This will help increase traffic to your e-store and further advertise your products.
Enable/disable "Post to Del.icio.us" option on your store front
A link for posting to del.icio.us is available on your store front if a text for this link is defined in the "General texts > post to del.icio.us" field under the "Setup > Texts" tab. So if you want to disable this link from your store front, simply leave the "post to del.icio.us" field empty.
Store front: The "Post to del.icio.us link" and how store visitors can use it

Customers can post a product of your Magnet Commerce store to Del.icio.us, by simply going to the product's page and clicking "Post to del.icio.us". This link is available under the "Product Details" section on every product page of your store: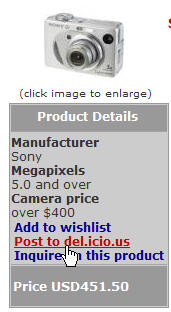 Figure:
Store front: Customers can click on "Post to del.icio.us" to post this product to Del.icio.us
! In order to be able to post a product to Del.icio.us your customers must have a Del.icio.us account. This can easily be done through the following page: http://del.icio.us/register